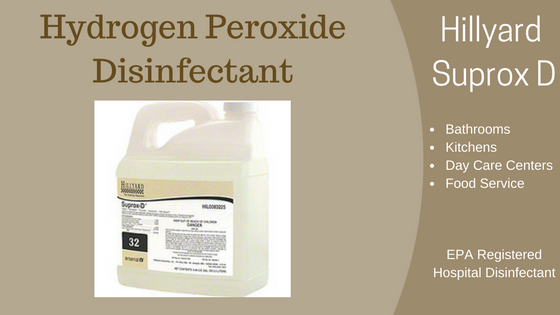 Hydrogen peroxide disinfectant not only has the cleaning power of peroxide, but the Hillyard Suprox D is also an EPA registered hospital disinfectant. This makes it an excellent choice for many of your cleaning and disinfecting requirements.
Hillyard Suprox D Hydrogen Peroxide Disinfectant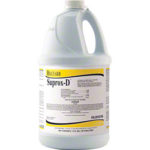 Suprox D can be used as a disinfectant in the following areas: Bathrooms, kitchens, day care centers, nurseries, athletic facilities, airports, cruise ships, casinos, office buildings, colleges, correctional facilities, dressing rooms, health clubs, factories, food service establishments, lodging establishments, institutional facilities, institutions, locker rooms, public facilities, public restrooms, retail facilities, schools, showers and bath areas, boats, buses, trailers, universities, and warehouses.
It can also be used in the following hospital/healthcare settings: dental offices, health care
facilities, hospitals, medical offices, and nursing homes.


Effectivness of Suprox D Hydrogen Peroxide Disinfectant
*This product kills HIV-1 in 1 (one) minute on precleaned environmental surfaces/objects previously
soiled with blood/body fluids in settings in which there is an expected likelihood of soiling of inanimate surfaces/objects with blood or bodily fluids, and in which the surfaces/ objects likely to be
soiled with blood or body fluids can be associated with the potential for transmission of Human
Immunodeficiency Virus Type 1 (HIV-1) (associated with AIDS). View Spec Sheet
An important factor when using a hydrogen peroxide disinfectant as is with any cleaning chemical, is to follow the directions on the label. Using more than directed does not necessarily make it more effective. In fact, you will be wasting money if you do.
DISINFECTING, CLEANING and DEODORIZING DIRECTIONS: To disinfect hard non-porous inanimate surfaces, dilute 2 ozs. of concentrate per gallon of water (1 :64 dilution). Remove heavy soil deposits from surfaces. Apply to surfaces using a cloth, mop, sponge, or coarse trigger sprayer. Spray 6-8 inches from surface to be treated, thoroughly wetting the surface. Allow surface to remain wet for 10 minutes. Rub with brush, sponge, or cloth. Do not breathe spray. Wipe area with a clean cloth or allow to air dry
Considerations
One thing to consider when using this product is the fact that it is corrosive. The following is an excerpt from the specification sheet.
Corrosive. Causes irreversible eye damage and skin burns. Harmful if swallowed or inhaled. Do not get in eyes, on skin or on clothing. Wear eye protection (goggles, safety glasses with side shields, or face shield). Wear coveralls worn over long-sleeved shirts and long pants, chemical resistant gloves, socks, and chemical resistant footwear. Avoid contamination of food. Wash thoroughly with soap and water after handling and before eating, drinking, chewing gum, using tobacco, or using the toilet. Remove contaminated clothing and wash clothing before reuse.
All things considered, the Hillyard Suprox D hydrogen peroxide disinfectant is an excellent choice. There are a multitude of applications from restroom floors to sinks, toilets and urinals. As with all disinfectants, there is a dwell time for full effectiveness. Please read all instructions on the label when using this or any cleaning chemical.